a yoga retreat for queer folx & women
A five-day retreat for queer folx & women to immerse into a brave space of 

svadhyaya

 (self-inquiry) and cyclical wisdom, held in the embrace of the Welsh wilderness. Grounded in daily yoga nidra, breathwork, embodied movement & sharing circles, we will spiral inwards & outwards to connect with our inner cycles (e.g. sleep, menstrual, life) and outer cycles (seasons, lunar, solar), exploring the relationship between and within.
The theme of spirals & cycles will be interwoven & guide our focus each day. Arrivals from 3pm on Friday 20th (first session starts at around 4pm) and departure at 10am on Wednesday 25th). 

An example daily schedule:
7.30am: breathwork & sharing circle
8pm: sharing circle, chanting & rest 
Workshop topics will include: meditation & nature walks, menstrual cycle awareness for all*, cosmology of the body, restorative yoga. 
*depending on the identity and needs of the group, we may have protected time & space for bodies that bleed to share.
We live in a society where time is presented as linear, a race from A to B. In this space we either win or we lose, we are good or bad, we have or we don't have. It is exhausting & harmful, leading to widespread burnout, illness, injustice & disconnection. Ancient wisdoms the world over tell a different story. To subvert these harmful systems, promote healing & sustainable change, this retreat offers the space for deep listening. To reconnect to the inherent wisdom & expansiveness held in the cycles of our bodies and the natural world.
Each cycle, be it the turn of the season, different stages of life or simply every breath we take, spirals into the next, offering the opportunity for reflection, learning and growth. Our 'mistakes' & our shadows become just as treasured as our 'achievements' in these spirals of learning. This is brave & vital work.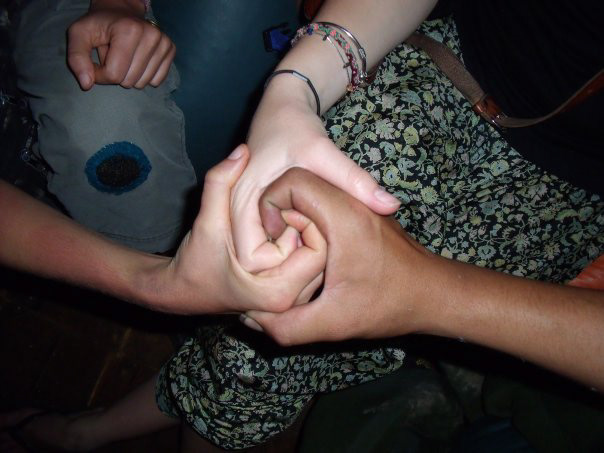 This retreat is for

queer folx & women

. Those with a brave heart & curiosity to explore the spaces between. Perhaps you feel full, burnout, in need of connection and/or longing to dive deeper into a yoga practice which expands way beyond the mat. For those who are open to self-reflection & wishing to connect their individual learning journey to serve collective healing & freedom.
Whilst the intention of this retreat is not to educate on topics related to queerness, anti-oppression & decolonisation, this is the lens through which the facilitators strive to share their offerings. You do not have to be well versed in these topics to attend, only open & willing to learn.      
All sessions are optional and the schedule may change depending on the needs & wants of the group at the time. 
In your free time, there are plenty of beautiful walks & swims to explore, including Snowdonia national park. 
Accommodation, Food & Investment
Tyddyn is a beautiful farmhouse run by Romy. Accommodation is found in the farmhouse, two barns and Mongolian yurt. Sessions will take place in the separate yoga space. Vegan & gluten free meals will be shared in the big farmhouse kitchen and cooked up by the beautiful Sally Balfourth. We will also be making use of the onsite stone circle & swimming pond!
Double bed (single occupancy) ~ £895 pp 
Shared room/space (twin, double or single bed in communal space separated by shutters) ~ £750 pp 
Single bed in shared Mongolian yurt ~ £600 pp [SOLD OUT]
This includes all sessions, meals & accommodation. You will also be sent all the yoga nidra recordings after the retreat to practice at home, as well as a 30 minute follow-up call/cuppa in the weeks following the retreat. 
A 20% non-refundable deposit is required to secure your place, final payment required by April 8th 2022. Further information on cancellation procedures can be found here. 
If finances are a problem, please get in touch to discuss payment plans, I am happy to be as flexible as possible to make it work! I will also be offering shorter retreats throughout the year at lower rates.